Human hair lace wigs are having a major moment in the beauty industry. They've been a longtime staple for event-going celebrities looking to quickly change their hairstyle for the red carpet without damaging their own hair. But beyond the world of stardom (and perhaps your aunties), real human hair lace wigs have been gaining major steam on social media, where skilled hairstylists showcase their magic for the masses. Every other day, it seems, a stylist goes viral for flawlessly blending a unit to the point where it looks exactly like it could be the client's own hair.
What exactly is a real human hair lace wigs?
A lace wig refers to the construction of the wig cap that the hair is either hand-tied or machined to. Human hair is tied to lace by hand and made into a wig, which we call a lace wig.
What are the different types of real human hair lace wigs?
There are different lace wig types according to the different cap construction. They are mainly divided into 3 types, best human hair lace front wigs, 360 lace wig, and full lace wig.
1. Human hair lace front wigs
There is a piece of lace in the front hairline of the lace front wig. The hair of the front lace is sewn by hand into the lace holes, while the rest of the wig is machine-sewn into the breathable hat. The human hair lace front wigs have good air permeability and dryness.
These human hair lace wigs are typically human-hair made, with a closure (a hairpiece that looks like your natural scalp) sewn on the unit's crown that can only be parted one or two ways in the front. Afterward, tracks are sewn on the back of the unit from ear to ear. They can cost between $100 and $490.
The front lace wig can be divided freely hair. Whether you want your hair parted in the middle or on the side, you can achieve the desired effect.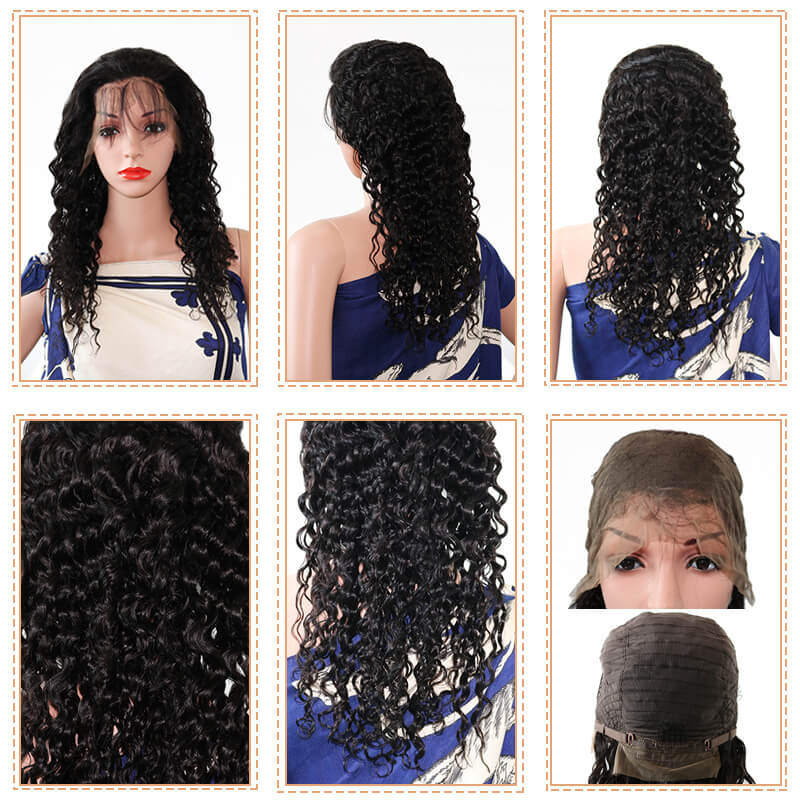 2. Full lace wigs
High-quality full lace wigs have a base that is made fully of lace. The entire wig is hand-knotted strand by strand onto the lace cap. This means full lace wigs are a bit more versatile than a lace front wig because these human hair lace wigs can be worn in different hairstyles. A full lace wig covers the entire head. Each of our full lace wigs comes with baby hairs along with the entire unit. There is no need to use wig glue or tape to wear a full lace wig.
The great point about full lace wigs is that parting is a piece of cake. Whether you want a middle parting, side parting, a middle and side parting, or a ponytail, you'll find that versatility is the key here.
Usually made with human hair and constructed from a lace cap, "a full lace wig is a ventilated unit that has versatility and allows you to part your hair in any direction. [Whether you want] ponytails or cornrows, you have unlimited styling options available with full-lace wigs," Deryck explains. These human hair lace wigs are installed by first braiding one's natural hair in cornrows, usually straight back; applying a bit of adhesive glue around the hair's perimeter (without getting it into any of your own hair); and then putting the wig on and in place by bonding it to the glue and securing with wig clips, if there are any included with the unit. A full-lace wig can set you back $100 to $5,000, depending on the quality.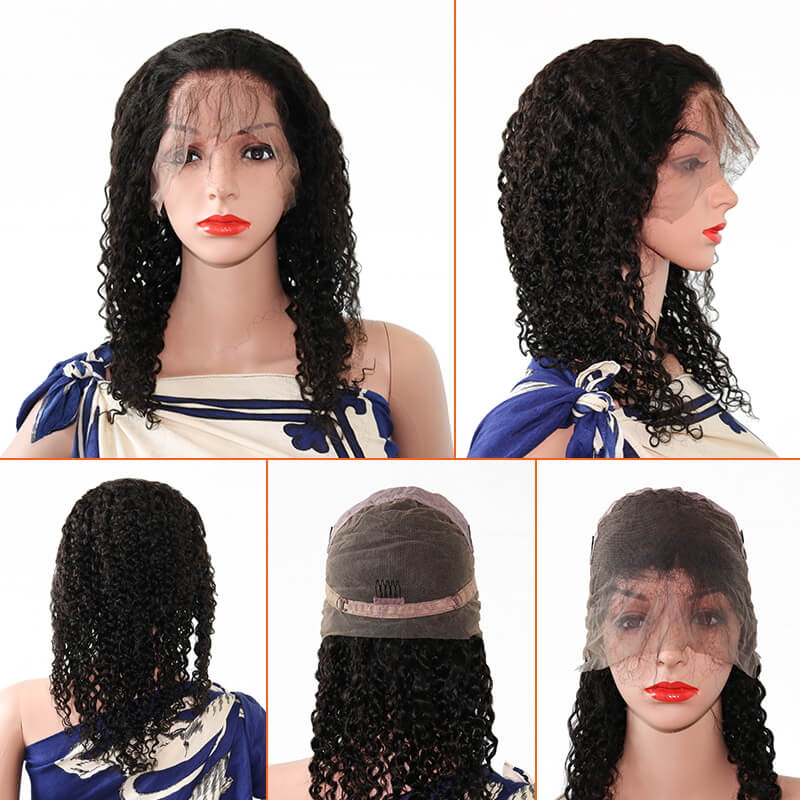 3. 360 human hair lace wigs
360 lace human hair wigs have everything a lace front Wig does, except the lace goes around the entire perimeter of the wig. Wearing 360 lace wigs is very easy and simple because it is stretchy and covers the entire scalp region with a natural hairstyle. You can wear it in a high ponytail because the lace at the back looks like your scalp.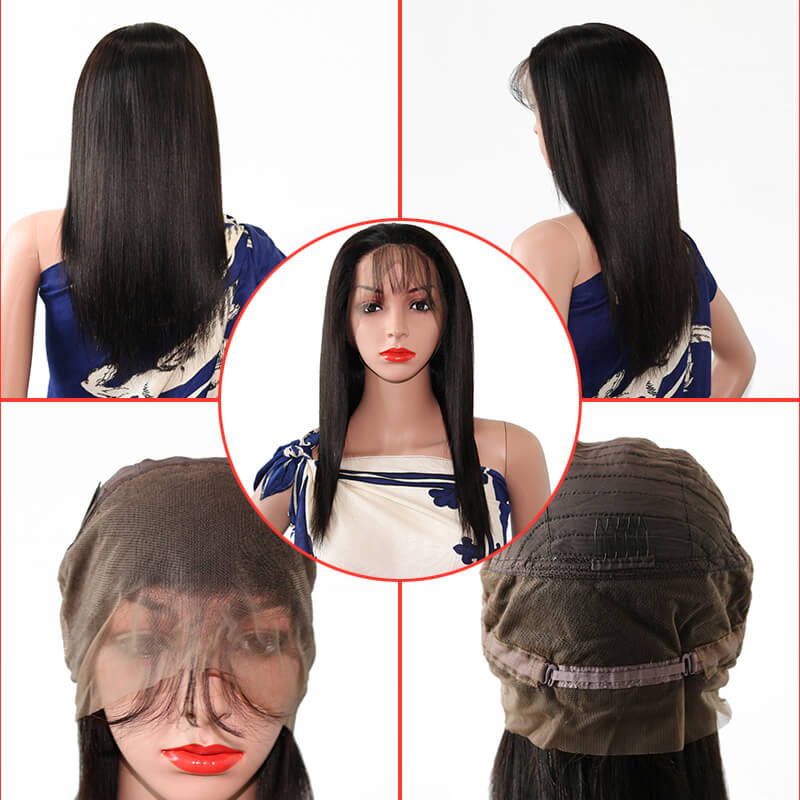 What's the different between 360 human hair lace wigs and human hair lace front wigs?
The main difference between 360 lace wigs and lace front wigs is the area ratio of the lace panel. A lace front wig is attached to the front edges of your head, along with your hairline where there is often a lace panel. 360 lace wig is lace around the head of a circle. It can be swept back in a ponytail.
The lace front wigs are less expensive than 360 human hair lace wigs. lace front wigs are the most common hair wig type on the market.
The 360 lace wig has all the features of a lace front wig. The lace wraps around the whole fringe of the wig, which means you can tuck it into a high ponytail. Because the lace at the back looks like your scalp.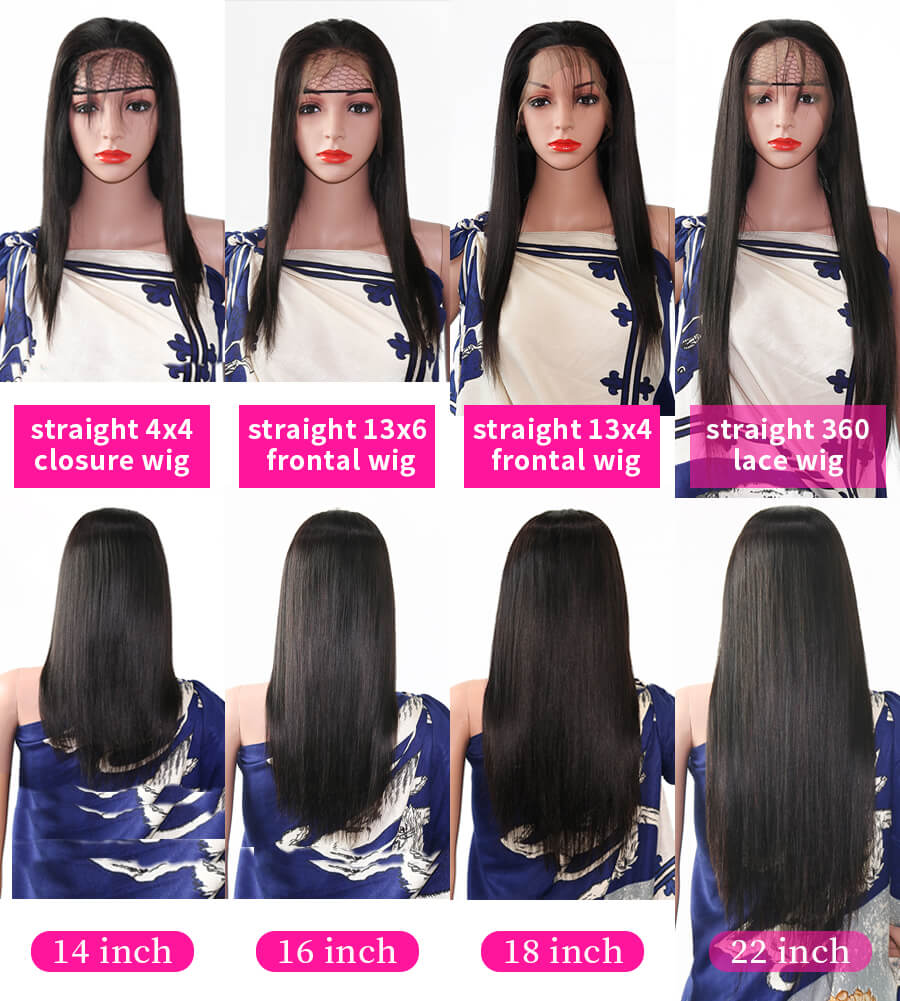 Wig maintenance
As with hair extensions, you should care for them as you would your own hair. That said, with wigs, in particular, there are some key factors to keep in mind to extend the life of your real human hair lace wigs. Take off custom units and store-bought wigs every night and store them on a mannequin head. If your wig is sewn along your hairline, however, wear a silk bonnet or scarf at night to protect the hair and keep it in tip-top shape (the same goes for full-lace wigs that have been applied with an adhesive).
1) Wash your human hair wigs with sulfate-free shampoo and conditioner.
Your own hair benefits from the oils produced by your scalp, but wigs don't have a natural source of moisture, so you should avoid cleansing them with products that contain harsh detergents. This is where sulfate-free shampoo and conditioners come in: They work as gentle cleansers, so you won't damage the integrity of the human hair wigs.
2) Don't wash them too much.
How often you should be washing your human hair lace wigs depends on how frequently you wear them. If you wear a wig daily, washing it twice a month is sufficient to ensure hair remains bouncy and fresh-looking for as long as possible. But if you only wear a wig once in a while, a once-a-month wash will suffice. Never wash wigs more than twice in any given month, or you can risk damaging the unit and shortening its lifespan.
3) Keep all wigs on a mannequin head when not in use.
Unless your wig is sewn to your head, Deryck suggests getting a mannequin head where you can rest it between wears. This also works as a great way to keep your wig's hairstyle intact as you get ready to go out. Leave it on the stand, then slip it on before heading out the door.
4) Do not use heat on synthetic wigs.
Since synthetic wigs aren't made from real hair, they typically cannot withstand heat styling or much manipulation. The heat can actually melt the hair, so stay away from it altogether. If you want to style your synthetic wig, you can create big, bouncy curls by using flexi rods and other heatless tools.
5) Never use heavy oils or styling creams.
You don't want to weigh the human hair lace wigs down, so it's best to avoid anything that will make it look greasy or leave residue that has to be washed out later.